This post contains affiliate links. Which means I will make a commission at no extra cost to you should you click through and make a purchase. Read the full disclosure here.
Want to add some Pinterest group boards to your arsenal? But don't have a ton of time with all the other blogging tasks you're already juggling.
Well, before we dive in with some hacks, I'd like to point out that Pinterest group boards are less important compared to your personal boards. And that the majority of your time and effort should be spent on developing your own boards.
So, if you have the mindset that all you need to do as a new blogger is join a ton of Pinterest group boards and your traffic will explode, then you might be in for a nasty surprise.
But whilst some may argue that joining Pinterest group boards are a complete waste of time due to recent changes. And that good Pinterest SEO, including in your Pinterest description is the only thing that matters.
If you can find high-quality and niched group boards they can still be beneficial to grow your reach and blog traffic. In fact, pins you add to group boards can still get ranked high up in Pinterest search.
So, if you're still interested in finding some group boards to compliment your own, then keep reading below for my top hacks to find Pinterest group boards that you can join fast.
Because the last thing you want to do on top of the mountain of fresh pins Pinterest expects us to make is to waste tons of time looking for Pinterest group boards with ineffective methods.
After all, Pinterest rapidly changes, and what worked a few months ago might no longer apply to today.
But first let's go over the basics of Pinterest group boards. Including:
What are Pinterest group boards?
How to create your Pinterest group board
How can Pinterest group boards help your Pinterest Marketing
What Is A Group Board On Pinterest?
On Pinterest, there are two types of boards — personal boards and group boards.
Pinterest group boards are exactly the same as regular boards, except for having multiple contributors who can add pins.
How To Create A Group Board On Pinterest
If you want to create your own group board, then create a new board like you would any personal Pinterest board. (Profile > Saved and then click the + icon on the right side just above your current boards.)
Once you have a Pinterest board that you want to make into a group board. Click on the Pen icon for that board.
This board can then be turned into a group board by adding Collaborators using the + icon, searching for names and then clicking Invite.
After accepting your invite, these contributors can then add their pins to the board.
You can even use this method with your existing boards to turn them into group boards. In fact, using an already developed personal board to create your Pinterest group board is a good way to increase its chances of success.
Because it avoids issues like:
There not being enough content for your collaborators to share
Or your board being too new that Pinterest doesn't trust it yet to give it any attention
How To Add A "Request To Join" Button To Pinterest Group Boards
Did you know, you can also add a Request to join button to your Pinterest group boards?
This button will let other Pinterest users request an invite to your board, without the need to set up fancy forms or fill up your email's inbox with requests.
It's surprising how hidden this feature is!
This button will let other Pinterest users request an invite to your board without the need to set up fancy forms or fill up your email inbox with requests.
So where should you start?
Firstly, go to your Saved tab on your profile.
Next, find and click on the Pinterest board you want to add a Request to join button. (Do not click any pencil icon, just open the board as you would normally.)
At the top of the Pinterest board, under the board title. There should be an + icon button next to your profile image, click this.
Then towards the top right of the menu that pops up is the advanced settings arrow, that you'll need to click.
To enable the Request to join button on your Pinterest group boards the setting below needs to be ticked: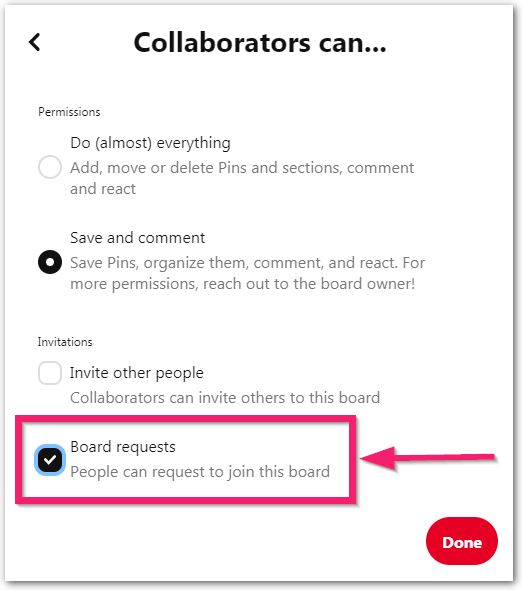 Once this is ticked and you click on Done to save your changes. The Request to join button will now appear like this to other Pinterest users:
And that's it! Your Pinterest group boards will be able to accept requests through this button.
I don't know about you, but this simplified Request to join button seems like a win-win for both group board owners and those looking to join.
Note: You will not be able to see this button on your Pinterest group board unless you are logged in with a different account.
What Are The Benefits Of Pinterest Group Boards?
Whilst many bloggers claim to have seen a decline in the results they get from group boards. Many bloggers continue to see beneficial results from them.
Group boards are still beneficial for new Pinterest accounts that don't have an established audience yet as they can help get more eyes on your pins.
But more established Pinterest business accounts can also benefit from them too. Because pins from group boards can still rank in the Pinterest search results.
The key aspect here is to join quality group boards. Rather than just anything you can get access to.
Not only do you want to join quality group boards but you also want to join niche, topic-specific boards. So that Pinterest doesn't get confused about what your pins are about.
How Do I Tell If A Pinterest Group Board Will Be Beneficial To Me?
There are plenty of suggestions as to what counts as a quality group board and how to evaluate them. From the range of contributors to the number of followers or even what niche the group board owner belongs to.
However, the only 100% way to tell if a board is beneficial to you is to join it and regularly pin to it. Because your pins will perform differently compared to someone else's since they are unique to you.
It's like comparing apples to oranges.
After at least 2-4 weeks, check your Pinterest group board for clicks using Pinterest's analytics.
Look for it under Analytics > Overview > Top boards and changing from Impressions to Link clicks.
You'll be able to quickly tell how your group board compares to others for a range of dates.
What Alternatives Are There To Pinterest Group Boards?
If you don't want to deal with the fuss of group boards, then there's only one close alternative to them called Tailwind Communities (previously called Tailwind Tribes).
Some bloggers have seen some amazing results just from using Tailwind Communities. So they can definitely be a powerful tool, which doesn't have the disadvantages of Pinterest group boards.
Oh, and did I mention? They are much easier to find and join!
Whilst you can consider them as an alternative, they can be used in addition to group boards. So, don't feel like you need to limit your options, especially when just starting out.
Everyone can get access to the free plan of Tailwind Communities. That lets you join 5 Communities and share 30 pins per month. A nifty little boost if you ask me!
Also, if you sign up through this link you can get a bonus credit of $15 towards Tailwind. This is enough to get you an entire month of their paid plan for free on top of their free trial of 100 scheduled pins.
But, if you are not familiar with Tailwind, then you should check out this Tailwind review first. As it will show you whether it can save you time and whether it is worth the cost.
How Do I Find A Group Board On Pinterest?
So, here's the main reason you are probably reading this post! Below you'll find the best methods on how to find group boards.
And as a bonus, at the end of the post, I'll even show you a neat trick to help speed up sending off those Pinterest group board invites. So keep reading to learn all about it!
Pinterest Search Bar
Did you know?
You can use the Pinterest search bar to look for Pinterest group boards, by entering keywords relevant to your niche.
If not, then here's how:
First type in your keywords into the Pinterest search bar, like blogging for example.
Next, press the enter key on either your desktop or mobile keyboard.

The right-hand side of the search bar will have changed. Click the new drop-down that appears here and select Boards. This will filter your search to only list boards that relate to your search phrase.
Unfortunately, this method will list both regular Pinterest boards as well as Pinterest group boards.
So, in order, to distinguish between the two — you will have to click on each Pinterest board to see if it is a group board or a personal one.
Look for boards that have the most pins, as these are significantly more likely to be Pinterest group boards.
Once you've clicked on the Pinterest board, check to see if there are multiple contributors. This shows just below the Pinterest Follow button.
If there are, then congratulations you just found a Pinterest group board!
When you do find a group board, always check the description to see whether it is accepting contributors. If it isn't then it's best to skip it, as often the time spent trying to contact the owner will just be wasted.
I've wasted plenty of time doing this, so don't make the same mistake I did.
The Pinterest Search Bar Method Is Slow
But, here's the thing. Whilst this method may give you all the possible Pinterest group boards for your keywords. This process is extremely time-consuming as you have to sift through all the regular Pinterest boards and group boards.
Even when you eventually find a Pinterest group board, there is little information to tell you the quality of the board. Or whether the author is active and will respond to your join request.
Popular Pinterest Profiles
With a new Pinterest account, you ideally should follow others in your target niches that are more established than you. These popular Pinterest profiles likely already have a host of regular Pinterest boards and group boards for you to gain inspiration from.
Find a few popular Pinterest accounts in your niche and then check out what Pinterest group boards they are part of. You can easily recognize the Pinterest group boards on their profile by those with a circular icon in the bottom left corner. This is usually divided into multiple profile avatar images.
Click through any of these that may be of interest to you and check out the board descriptions to see if they are accepting contributors. And hopefully any additional details you need to join.
Keep a list of any that catch your eye to apply to them later, which we'll cover using a neat time-saving trick later.
This method is also time-consuming but it's more efficient than searching through all the regular and Pinterest group boards using the search bar.
Most importantly, the chances are that many of these boards that popular pinners are using have been well-established for a while. But the effect of this can be two-fold.
The benefit is that well-established group boards used by popular pinners in your niche have a higher chance of being high-quality, niche-specific, and active.
These are all things that can give your new account a positive boost!
But, the downside to this is that many of these groups will likely already have many contributors and won't be accepting new members — Potentially wasting your time.
Facebook Groups
Another method you could try is Facebook groups. Often there can be some exclusive invites and hidden gems here.
Whilst you might find Pinterest group board invitations in any Facebook group related to your niche. It's far more effective to look for them in Facebook groups made specifically for finding and sharing Pinterest group boards.
Like these:
If you need more Facebook groups, then simply search in the Facebook search bar for Pinterest group boards — As the list above barely scratches the surface.
This method depends on your luck, topic, time spent, and which Facebook groups you join. So, your results will vary.
Facebook groups are notorious for taking up a lot of time. Whether you manage the group or are just an active member. But the main benefit of this method is that you can find some group boards you may have missed elsewhere.
And let's not forget, that these Pinterest group boards are actively seeking new members. Meaning the time and effort you spend to find them and send a request to join is far more likely to get you an actual invite.
Google Search
Next up, if Facebook groups aren't your thing, then you could try the good old Google method.
That's right! Just try searching for your niche keyword with the keywords Pinterest group boards.
Why?
Because often people create blog posts that center around their favorite Pinterest group boards. And these posts are often optimized to appear when you type in certain keywords into Google.
Here's an example of some lists you can get by typing in Pinterest blogging group boards.
With this method, you can get curated Pinterest group boards, specific to a certain niche. Or several different categories depending on the blog post. This can result in some high-quality boards you've not come across before.
But these groups can also fill up fast depending on the popularity of the post. As well as the information can quickly become stagnate and outdated. All of which, could end up wasting your effort.
The best thing about this method though is that it takes out the need for you to search and find these boards. All that time-consuming searching is done for you.
So, if you find a recent list of Pinterest group boards for your niche then it can help you join some new boards faster than most other methods listed here.
PinGroupie
PinGroupie is a tried and tested method that is quite popular among many bloggers and it's often recommended as the one-stop-shop for finding many new group boards.
Being able to search specifically for group boards is something the Pinterest search bar should have been able to do ages ago. Yet probably never will.
Finding group boards with PinGroupie is quick and simple. As it has an option to search using keywords in the board title and description. Plus filters to sort by Pinterest followers, pins, average repins, or collaborators.
These powerful search options make it quick and easy to find many boards that meet your requirements. That is missing using other methods.
And more recently PinGroupie seems to have got much better at regularly keeping its information updated!
The New PinGroupie Alternative PinSprout

IMPORTANT!
For a while now it seems the PinSprout website is down. I've left the following information in case it pops back up. But on a positive note, it looks like PinGroupie has been updated so you'll likely want to use this instead now.
An interesting PinGroupie alternative that I've discovered is called PinSprout.
If you go to Group Boards > Find Group Boards from the top menu, you'll quickly find yourself at their search screen.
If, for example, you typed in blog you'll get a ton of results back. In fact, I got 1061 results — that's an almost unbelievable amount.
While the search options are simplified compared to PinGroupie, you still have powerful options to sort by:
Category
Contributors
Followers
And repins
PinSprout Has Even More Powerful Analytics Compared to PinGroupie
In fact, PinSprout is far more powerful in terms of analytical information, because if you click into the details of each Pinterest board, you can see even more stats.
Like how many pins were added to the board in the last week. Plus how many repins from the board were created in the same time frame.
This provides you with an amazing insight as to how healthy these Pinterest group boards are before you bother to spend time applying to them. (Though I think a 30-day analysis would be arguably more accurate.)
You can even get an idea of how many out of the total contributors are active. And how many pins on average are added to the board each day.
Each of these are useful metrics you can use, to make sure you aren't on boards that move so fast that no-one can see your pins consistently.
On the other hand, a slower-moving board is harder to distinguish just by these metrics. Since as a new contributor, your activity could boost the overall quality of a slower board.
The New PinSprout Metrics Make It Easier To Prioritize Joining Pinterest Group Boards Compared To PinGroupie
The metrics are a great way to prioritize which boards you want to aim to join first. But just because the metrics don't look as good as you want them — doesn't mean they are not worth trying out.
After all, even though you can see the number of repins over the past week. These can fluctuate a lot in my experience. Perhaps the pins that week just weren't very enticing. Or maybe it was a quiet week with many pinners being on holidays like Thanksgiving or Christmas.
You also can't tell which pins were repinned from these stats.
A single pin with many repins could be skewing the results, which might make that Pinterest group board worthwhile for that Pinterest user. But the same might not be true for you.
Either way, it's always worth taking these Pinterest group board metrics with a pinch of salt.
Overall, if:
The quality of pins on the board is high
The board doesn't flow too quickly (lots of active collaborators)
And it is very niche-specific.
It might be worth giving the group board a trial run. As every board works differently for each person.
After all, we all have different pin designs, use different keywords, pin at different times, and have different ideal audiences. So the only way to know if certain Pinterest Group Boards work for you is to try it yourself.
How Best To Use PinSprout To Find The Perfect Pinterest Group Boards
Check your Pinterest board analytics to keep a tally of how many repins you get from your new Pinterest group board. (Analytics > Top Boards.)
Check your Pinterest board analytics to keep a tally of how many repins you get from your new Pinterest group board. (Analytics > Top Boards.)
Ideally, if you also regularly keep track of your other Pinterest group boards, then you'll have an accurate idea of how well the new board performs compared to your old boards.
Use this information to weed out lower performers and consider leaving them. Or you can even Archive Pinterest group boards to safely remove them from your profile.
Don't worry though; you won't accidentally delete the board for everyone else.
This way, if you find that your stats drop significantly after leaving a particular Pinterest group board. Then you have some peace of mind that you can un-archive the board and start contributing again. (Providing the owner hasn't removed you for inactivity.)
The Benefits of Using PinSprout Over PinGroupie & Other Methods
Overall, PinSprout's Beta website has tons of information about the metrics of individual boards. It is more updated than PinGroupie and finding more boards is much quicker.
But all this information can come at the cost of decision overwhelm. There is so much information that trying to figure out which boards are the best can result in you not getting around to actually applying to those Pinterest group boards.
So, try to keep things simple. Aim for boards that are very niche specific. And consider those that don't have too many or too few contributors. Those with more followers are ideal but smaller boards can also be beneficial.
The fact that you'll find tons of options to apply, also means you could spend a significant amount of time just applying to Pinterest Group Boards. This is why it is important to prioritize which Pinterest boards to join first.
Don't be fooled by the Request to join board button on PinSprout though. As it just sends you to the group board on Pinterest. This button does nothing to make it easier to join group boards.
Sadly, you'll still have to jump through the various hoops just to join any of them.
PinSprout 7-Day Analysis Can Be Slightly Misleading
Since some of the metrics are based on a 7-day analysis rather than 30 days, this can sometimes skew the results a fair bit. I've seen a couple of boards on PinSprout with a super high Repin Reality.
But these boards might just be lucky with getting a lot of traction that particular week. While the overall quality of the board for the remainder of the month was terrible! No one wants an inconsistent repin rate. So keep this in mind!
I've also noticed that not all group boards appear on it, even though it shows a massive amount compared to PinGroupie. So all the other methods mentioned in this post can still be valuable to find those more elusive Pinterest group boards.
Quick Hack To Help Speed Up Applying To Pinterest Group Boards By Email
Okay, so using the above methods you might end up with a long list of Pinterest boards to join. But applying to all these could potentially take forever.
But here's a neat little trick. Ever heard of Mail Merge? If you've ever used Word in an office environment to personalize letters then you might have come across it.
Even if you haven't heard of it before — All you need to know is that a Mail Merge can help remove the manual process of replacing certain words in a document. Or in this case an email.
If you've ever sent several Pinterest group board requests by email, then think of all the time you've spent changing the email address, Pinterest board names, and the board owner's name. For every single Pinterest group board request that you've sent.
Mail Merge can help you skip some of this process and save you time. Sounds interesting, right?
So what do you need? Not much at all! All you will need is this:
How To Set Up Your Google Sheet For Sending Pinterest Group Board Requests
The first thing you want to do is set up your Google sheet.
You'll want columns for the board owner's name, the name of the board you want to join, and the email address you want to send to. Fill in these columns with the Pinterest board details as you find them when using one of the methods above.
Your sheet will look something like this:
Install The Yet Another Mail Merge Add-on
Go to the Chrome Store download page for the add-on Yet Another Mail Merge. And click on the Free button
A blank Google sheet will open and after a few moments, you'll be asked to give the add-on permission to run. When this happens click Continue.
If you have multiple Gmail accounts then you might be asked to confirm which account the add-on will use.
A list of features Yet Another Mail Merge needs access to will be displayed. Click Allow if you are happy to give it access.
After a brief amount of time, the add-on will finish installing. If the install opened a blank sheet then you'll want to close it.
How To Set Up The Pinterest Group Boards Draft Email Template
In Gmail, compose a new email and layout your email something like the below, which has worked for me previously:
It is important to note that the text between the << >> matches exactly to the column headers in the Google sheet I showed you earlier. So make sure to use the headers you have in your Google sheet if you wrote them differently from mine.
You'll also want to update the Pinterest Email, Pinterest Profile, and Blog URLs to match your own.
Final Settings For Sending Pinterest Group Board Email Requests
Open the Google Sheet you created earlier. Once opened, from the top toolbar click on Add-ons > Yet Another Mail Merge > Start Mail Merge.
Note: That you can only send 50 emails max per day.
Click Continue on the pop-up box.Another screen will appear. Make sure that the emails will be sent using the correct column.
Set your Sender Name. Then select the Email Template from the drop-down list. You should see the drafted email you compiled earlier.
Make sure you set the From email address to the one that is associated with your Pinterest account. (You can check what this is under your Pinterest profile settings.)
Set this by clicking on + Alias, filters, personalized attachments… And set the Send from field to the email address you want to use. Click Back once done.
You will then want to click Receive a test email. This will send a test email to your inbox using the first line of details in your Google Sheet.
Double-check everything looks correct! If everything is set up the way you want it, then you can go back to your Google sheet and click Send 5 emails button. (Or however many emails you have in your sheet up to 50.)
And that's it! Once you have everything set up, it is much quicker to reuse.
Recap Of How To Find & Join Pinterest Group Boards
Overall, PinGroupie is still the best way to find Pinterest group boards. As they make searching and finding group boards super easy. And with a few more search filters it could be a really powerful method that saves Pinterest users tons of time.
While PinSprout.com looks like it could shape up to be an amazing way to look for new group boards in one centralized place. Sadly their website appears to be down.
The other methods we've covered can still be useful as you can find group boards missing from PinGroupie. Because while they all have the issue of being time-consuming. you can find group boards you might have missed otherwise.
Now, it's your turn to try out these methods to find Pinterest group boards and see which works best for you.
Just keep in mind that not all Pinterest group boards are high-quality. So make sure you monitor the results you get from each one you join.
If you found this blog post useful then please consider taking a few seconds to share it on your favorite social media platform!